Dry Kiln Maintenance
For over 20 years, Franklin Coatings has successfully completed various projects for notable Lumber Mills including; Canfor, Weyerhaeuser, West Fraser, Tolko, Millar Western, Interfor, Conifex and many others throughout BC, Alberta, and the Western United States.

Our mandate is to provide our customers with maintenance procedures that help with the preservation and efficiency of their dry kilns. We at Franklin Coatings are dedicated to maximizing the efficiencies of each of your dry kilns, and to give you the best possible performance for each and every drying cycle.
Services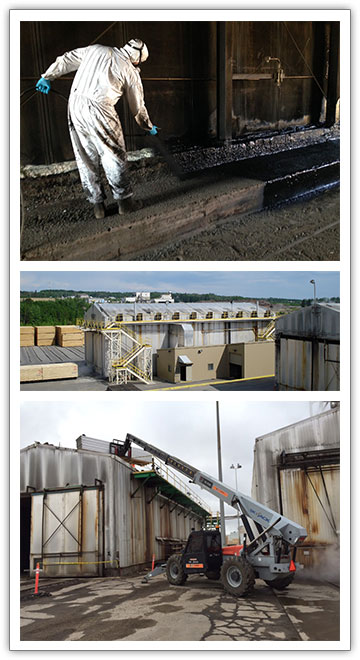 Coating:
Keep your concrete and steel coated with real Kiln Coating. The weakest part of your dry kiln is the concrete and then the steel. Let the coating take the abuse of the inside environment. The interior concrete and steel should be coated every year. (Depending on drying temperatures and wood species)
Sealing:
The purpose of sealing your dry kiln is to ultimately save you money and increase your profits. A properly sealed dry kiln will consume less energy and increase the quality of the lumber being dried, decrease the time of drying and give you better standard deviation results. Once your dry kiln has been re-sealed, it should last you 2-3 years before it needs to be sealed again, only if it is kept tightened yearly.
Tightening:
By keeping your dry kiln tight you preserve the sealing process. A loose dry kiln will result in inefficient drying. You will lose energy and the dry kiln will deteriorate. Tightening should to be done every year.
Bottom Door Seals:
We at Franklin Coatings have our own custom removable door seal. Gone are the days of an hour of downtime to replace one door seal. Franklin door seals slide in and out in just a few minutes.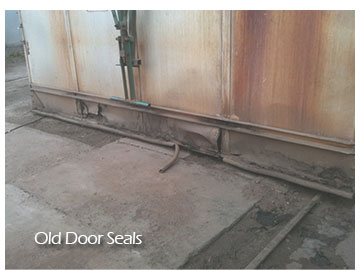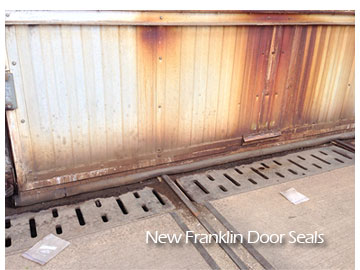 Kiln Panel Replacement:
We manufacture and install high quality dry kiln panels. Our panels are made of Embossed Marine Grade Aluminum skin with 3 in Ridged Foam insulation.
Be it replacing just a few panels or a complete dry kiln reskinning, we can accomodate any project. The cost of panel replacement is considerably more effective than the cost of a new kiln; consider consulting with us about replacement of panels before budgeting for an entire kiln replacement.